Our skilled nursing facility offers short-term and long-term options to help your loved one recover so that they can return home and resume their daily lives. Families can choose from inpatient and outpatient rehabilitation services.
If you are in need of skilled nursing or therapy post-surgery or illness, we are here to help. You may need our care for a variety of reasons, including strokes, broken bones, or even surgery. In order to promote a faster and more effective long-term recovery, we provide 24 hour support.
To ensure a more comfortable recovery, we provide the benefits of a hospital in a home-like setting. Our services include stroke recovery, physical therapy, occupational therapy, speech therapy, and medical nutritional therapy. Your loved one will receive the support that they need to regain their strength on their recovery journey when they choose our inpatient and outpatient rehabilitation options.
Bear Creek Skilled Nursing Facility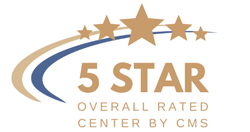 Bear Creek is honored to deliver the finest medical care services in a clean, friendly environment. We're proud to serve Pasco, Hernando, Hillsborough and Pinellas County residents for all of your skilled nursing, respite, short-term rehabilitation and outpatient rehabilitation care needs.